SHOCK ABSORBER BOLT COVERS
IOMP-10534
Suits Scout Models
• Suitable for all Indian Motorcycle Scout models
• Covering the rear shock absorber screws
• Covers are made of high-strength aluminum
• Manufacturing on CNC machining centers
• both caps are clamped with a VA grub screw
• 2 pairs (4 pieces)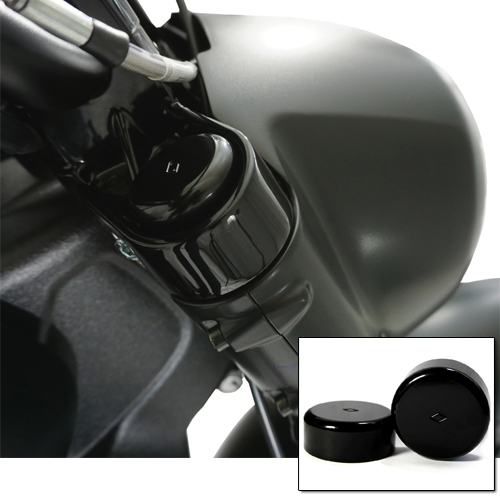 IOMP-10525
TOP FORK BOLT COVERS

Suits Indian Scout Models
• Black powder coated top fork caps
• Covers are clamped by a grub screw
• Sold in Pairs

TOP FORK BOLT COVERS WITH INDICATORS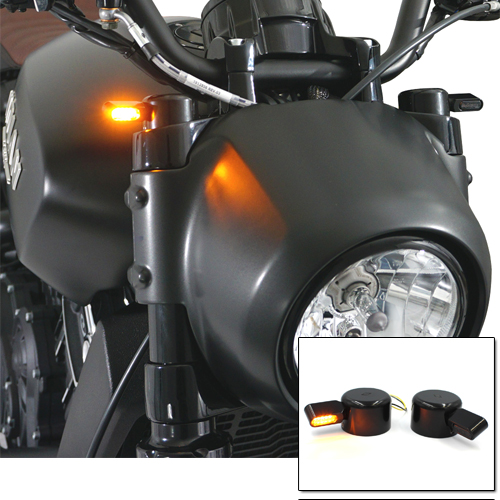 IOMP-10523
Suits Indian Scout Models
• Suitable for all Indian Motorcycle Scout models
• Covering the upper fork screw + IOMP LED indicator
• Cover & indicator housing are made of high-strength aluminum
• Manufacturing on CNC machining centers
• Both caps are clamped with VA grub screw
• SMD indicators 21.5×8.5 mm
• Cable length approx. 200 mm
• SMD indicator,  E-mark
• Tinted glass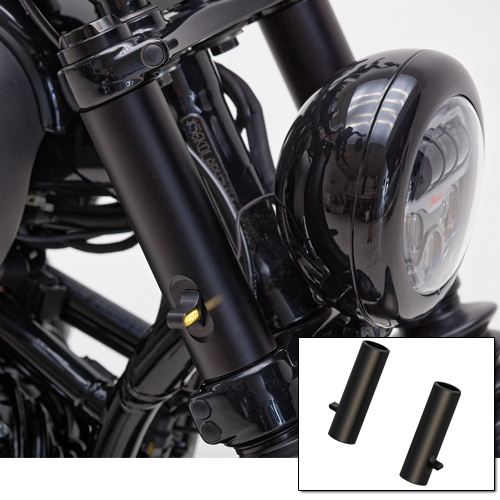 WK-107098-F24
Upper fork tube covers with indicators
Suits Indian Chief Models
• The covers are mounted by O-rings which suck the covers at the standpipe. Thus, no damage by clamping bolts is possible.
• The covers have a discharge hole for rain.
• CNC-milled, surface bead blasted and semigloss anodized in black.
• With LED-mini-indicator 'littleOne' long version (E-marked) including all necessary resistors and solder connections.
• Due to modern Can-Bus systems, we recommend installing the parts in a specialist workshop.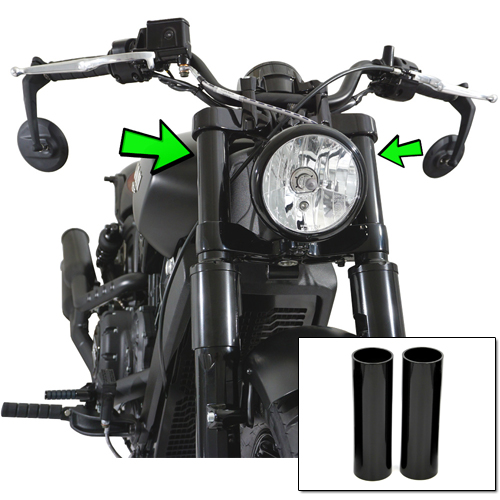 IOMP-10526
UPPER FORK COVER SLEEVES

Suits Indian Scout/Scout Sixty & Scout 100th Anniversary Edition
• Covering of the upper fork tubes, between the upper and lower fork bridge.
• Covers are made of high-strength aluminum
• Manufacturing on CNC machining centers
• Tailored manufacture of the top / bottom (no gap & no rattling)
• Sold in Pairs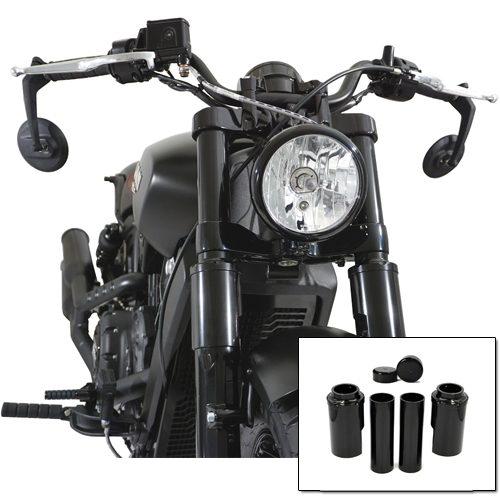 IOMP-10526-SET
FORK COVER SLEEVES SET

Suits Indian Scout/Scout Sixty & Scout 100th Anniversary Edition
• Suitable for Indian Motorcycle Scout & Scout Sixty & Scout 100th Anniversary Edition.
• Covering the upper fork screw.
• Covering of the upper fork tubes, between the upper and lower fork bridge.
• Covering the lower fork tubes.
• Covers are made of high-strength aluminum
• Manufacturing on CNC machining centers
• Tailored manufacture of the top / bottom (no gap & no rattling)
• Sold in Pairs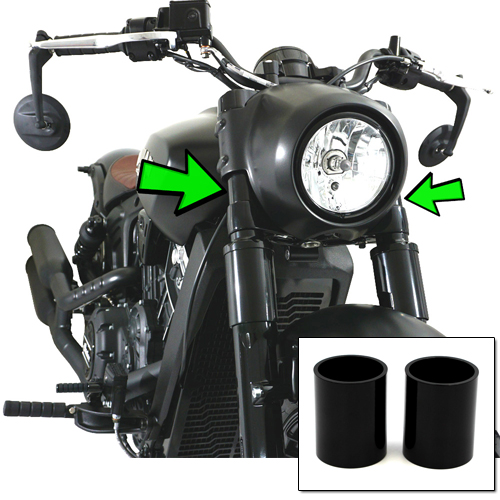 IOMP-10527
UPPER FORK COVER SLEEVES

Suits Indian Scout Bobber & Bobber Twenty
• Covering of the upper fork tubes, between the upper and lower fork bridge.
• Covers are made of high-strength aluminum
• Manufacturing on CNC machining centers
• Tailored manufacture of the top / bottom (no gap & no rattling)
• Sold in Pairs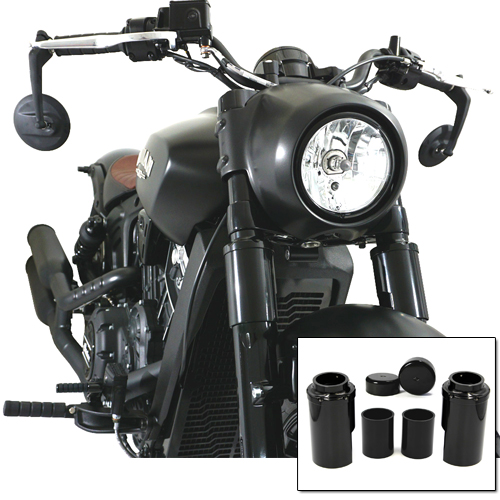 IOMP-10527-SET
FORK COVER SLEEVES SET

Suits Indian Scout Bobber & Bobber Twenty
• Covering the upper fork screw.
• Covering of the upper fork tubes, between the upper and lower fork bridge.
• Covering the lower fork tubes.
• Covers are made of high-strength aluminum
• Manufacturing on CNC machining centers
• Tailored manufacture of the top / bottom (no gap & no rattling)
• Sold in Pairs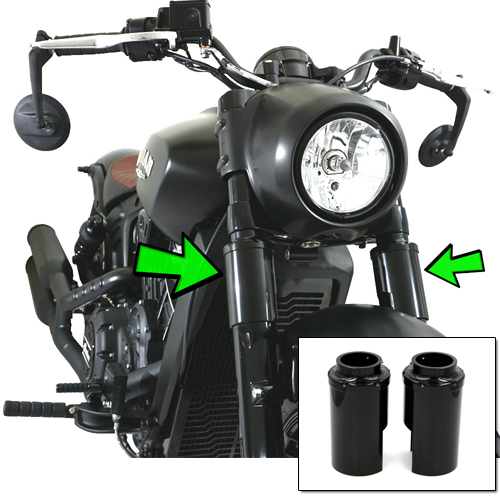 IOMP-10528
LOWER FORK COVER SLEEVES

Suits Indian Scout Models
• Covering the lower fork tubes
• Covers are made of high-strength aluminum
• Manufacturing on CNC machining centers
• Tailored production (no gap & no rattling)
• Sold in Pairs